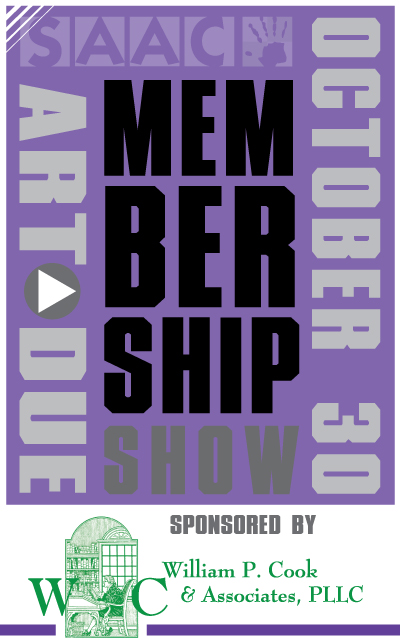 ••
DELIVER ENTRIES BY OCTOBER 30
2 Pieces per Member
First Entry FREE • Second Entry $10
Select your two favorite works, created at any time
in your lifetime and bring them for the show.
Gallery Exhibit:
November 1-30
Art Reception:
Saturday, November 10, 6:00-7:30pm
Again this year – anything goes! With the exhibit being a showcase and not a competition don't miss this opportunity to select your two favorite works, created at any time in your lifetime, and bring them for the Membership Showcase. Artwork must not have previously shown at SAAC in Membership Show is the only rule. There's no competition or cash awards, but you can sell your work if you wish. The first entry is free, and the second is $10.
---
Prospectus
ELIGIBILITY:
Open to any SAAC member. All 2-D and 3-D fine arts media accepted, including photography, computer generated art, video and multi media presentations. Pieces must be original and not previously shown in the last Membership Show. Artwork completed under classroom supervision and/or reproduced from published material or work by other artists is not accepted.
ART WORK:
2-D works must be completely ready for gallery display – framed in a clean, neat and professional manner with a secure wire hanger. 3-D works and multi media presentations must be display ready. Work unsuitable for installation in the gallery may be disqualified. The gallery manager has final authority to define what constitutes an acceptable entry.
ENTRY/FEE:
The first entry is free and the second has an entry fee of $10. Limit 2 pieces per member. Make checks payable to SAAC. Fee is non-refundable.
DELIVERY & PICK-UP:
Deliver entries to SAAC by Tuesday, October 30. Pick up entries on Monday, December 3, 9am-5pm. Unclaimed work will become the property of SAAC after 30 days.
EXHIBITION:
The show will be on display November 1 – 30, 2018 in the SAAC galleries. An Artist Reception will be hosted 6:00-7:30pm on Saturday, November 10. All work must remain for the duration of the exhibit.
SALES:
Sales are encouraged. A commission of 35% will be charged on all sales resulting from the exhibition. Works NOT FOR SALE must be marked NFS.
LIABILITY:
Any work submitted to SAAC for exhibition may be reproduced for promotional purposes. The receipt of an entry in the competition will constitute agreement by the artist with all conditions set forth in the prospectus.