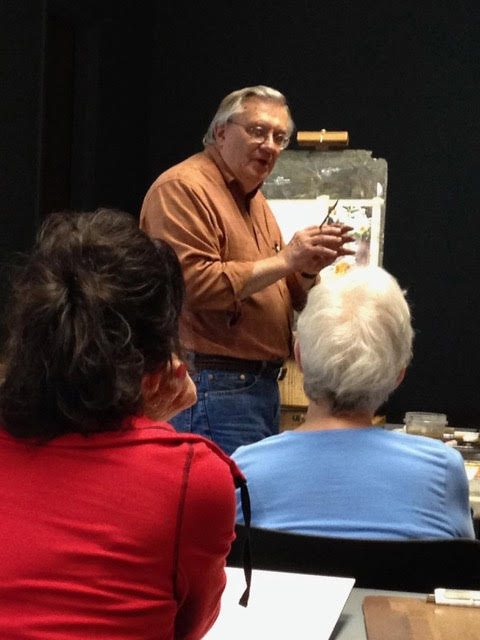 Nationally renowned watercolorist Richard Stephens returns to SAAC for "Watercolor Painting and Design" in February. The workshop for all experience levels will meet 9am-4pm on February 1 and 2, and then meet for a recap/last notes 9am-noon on February 3.
Kelly Campbell, local artist and art instructor, said, "I have been in Richard's workshops more than once, and I can tell you that he is a fabulous instructor. He always brings something new, and he's great with new painters as well as those who are more experienced. He's one of the best teachers I've ever had. I can't wait to be in a workshop with him again!"
For more information on Stephens, you can visit his website raswatercolors.com.
To Register • Click link below or call SAAC at 870-862-5474
Cost for the workshop is $175 per person (supplies not included), with a maximum of 15 participants.
Below is Stephens' list of supplies and comments:
BRUSHES: For this class you will need only a few basic brushes. Synthetic brushes are less expensive and will work just fine for our projects and exercises.
• 1" Flat(or larger) • 1/2" Flat(or smaller)
• Large Round(# 6,7,or 8) • Small Round or Rigger(For making fine lines)
I do a lot of my painting with round squirrel mop brushes. If you have them already please bring them. If you don't have them I don't require you buy them as they are rather expensive. If you are a more experienced painter I'm sure you will have a variety of brushes. I will also bring extra brushes for students to borrow.
PALETTE: Nothing fancy required here. Actually a white dinner plate or butcher tray will do. Inexpensive plastic palettes with "wells" for keeping colors separated are available at local art supply stores or on line. These come with lids that keep your pigment from drying out and would be worth the investment.
PAINT: Tube colors are strongly recommended but cake or pan colors will do if that is what you are used to. For the sake of expense we will work with a minimum of colors. You certainly can purchase all the colors you want but the following will be all you actually need for this class.
Reds: Alizarin Crimson and Cadmium Red
Blues: Ultramarine, Cobalt and Cerulean
Yellows: Yellow Ochre and Lemon Yellow
Browns: Burnt or Raw Umber
Small tube of White Gouache or Titanium White WC
Optional Colors: Sap Green, Raw Sienna, Quinacridone Gold and Turquoise
PAPER: I suggest 140 Lb. Cold Press watercolor paper. Full sheets are 22" x 30". We will cut these into 1/2 and 1/4 sections for most of our projects. Watercolor blocks or pads are acceptable and come in a variety of sizes. You will also need a small SKETCH PAD( 8" x 10" or 11" x 14") for designing and value sketches.
ADDITIONAL SUPPLIES AND MATERIALS: The following items are things you probably have around the house but are important tools in the painting process:
• Water resistant gatorboard, masonite, coated plywood, plexiglas, formica or lucite. Needs to be slightly larger than 15" x 22"(1/2 sheet w/c paper). Or slightly larger than 30" x 22" if you plan on painting on full sheet.
• Water container that will hold at least a pint of water and wide enough for your widest brush • Sponge • #2 Pencils • Masking Tape • Spray Bottle • Paper Towels or Tissues • Kneaded Eraser • Fine Line, Medium and Broad Tip Black Magic Markers(optional)
PLEASE BRING PHOTOGRAPHS OR OTHER IMAGES FOR SUBJECT MATTER:
I will bring many, many photos that students are welcome to use for their painting subject if they do not have something of their own. I will also have several original paintings in plastic sleeves that students can use. I have no problem with students copying another painting for educational purposes. Obviously one would not claim them for their own or enter them in shows.