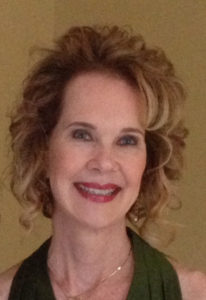 "Recent Works" by El Dorado artist Gay Bechtelheimer is currently showing in the Price and Merkle Galleries.  Bechtelheimer has been on a bit of a personal journey with her art in the past three years, revisiting some reoccurring themes and branching out toward some new interests as well. The Merkle Gallery will display works in pastel, watercolor, mixed media, acrylic, and neon. "40 Days in the Delta", a series of forty watercolors completed from 2016 through 2018, will hang in the Price Gallery. An artist reception was held on Thursday, May 3, at 6:30pm to open the show and it will be on display through June 29, 2018.
Included in the works shown in the Merkle Gallery will be a series entitled "WSJ" (Wall Street Journal). These 9 mixed media pieces represent a new venture for Bechtelheimer. Paper from the WSJ magazine, tape transfer, gold leaf and acrylic paint are all incorporated into this group. She translated these same pieces into pastels as well.
"I took a workshop with Theresa Boothe Brown in mixed media studio in Aspen, Colorado. I'd always been reluctant to take on mixed media because I couldn't find my niche, a way that I could use this as a form of expression," Bechtelheimer said. "When I had some time to investigate it, that's when I stumbled upon this format of using the magazine papers and gold leaf, and that's where my idea for this series came from."
Also included in this show is a group of paintings incorporating neon light that Bechtelheimer worked on for some time. She had always been intrigued by neon lights, but was unsure how she would incorporate them into her repertoire. After much consideration, she came up with a plan and proceeded to get the housing and neon tubing built to her specifications. "The neon group is a nod to pop culture -I like the industrial quality of it," she said. Some of her neon works are also on display at The Murphy Arts District.
When asked about her inspiration for "40 Days in the Delta", Bechtelheimer replied, "It is where the skies meet the earth. That is a very powerful touchstone, literally, figuratively and imaginatively. There is the connection between the earthly and the divine. It captivates me to want to try to express the nuances of that landscape. This series is a continuation of my 2012 show, 'Horizon Line'. These new pieces further my investigation of the horizon line and landscape, all in watercolor.
"'40 Days in the Delta' expresses the terrain, atmosphere, weather and the power of that particular place on earth. It's a recurring theme for me. I will always be drawn to that theme. Artists are drawn to recurring themes, and they don't get tired of trying to express them. There's always going to be something new and a new way of expressing it. The graphic pieces using the Wall Street Journal papers have a feel of a horizon line to them. It's my sensibility."
Bechtelheimer is represented by Champagnolle Design in El Dorado and Greg Thompson Fine Art in the Argenta Arts District in North Little Rock. She has recently shown her work in solo exhibitions at SAU in Magnolia and The Snyder Museum in Bastrop, Louisiana, and as part of a three-woman show at ASU Mid South in Memphis. Her work can be found in both corporate and private collections throughout the country. Corporate collections of note are The Murphy Arts District, El Dorado; The UAMS Winthrop P. Rockefeller Cancer Institute, Little Rock; UAMS Reynolds Center on Aging, Little Rock; Alice-Sydney Oil Company, El Dorado; and South Arkansas Orthopaedics, El Dorado.
Bechtelheimer is a graduate of Louisiana Tech University. In addition to teaching at North West Elementary School, she teaches classes at SAAC. She is currently a member of the SAAC Board of Directors and the Arkansas Arts Council. She has volunteered her time to serve as president and past president of both of those entities.