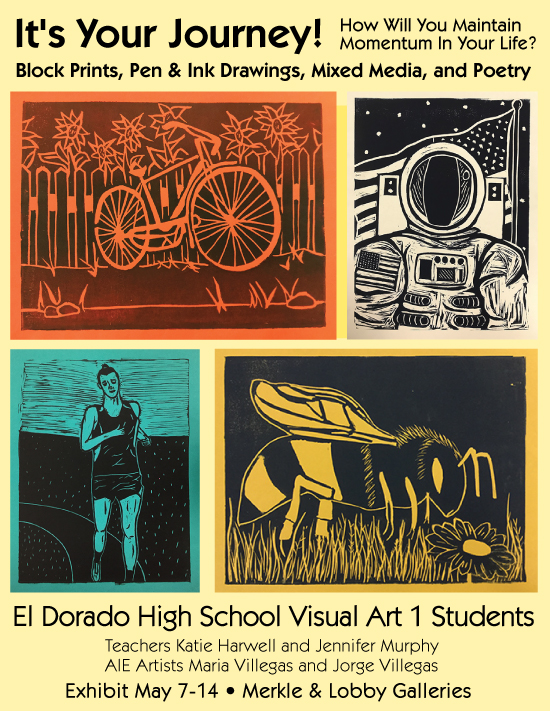 El Dorado High School AIE project entitled "It's Your Journey! How Will You Maintain Momentum in Your life?" will be on exhibit May 7-14. An artist's reception will be held on Thursday, May 9, 5:30-7:00 pm to honor all the EHS Visual Art 1 students who participated.
The Arts in Education (AIE) program is designed to strengthen the role of the arts in preK-12 educational settings by fostering participation in the arts as an integral part of life and the basic education process. Artists are based in a school or a community organization where they work with a site coordinator and key staff members to develop programs and activities for the students.
The AIE program in El Dorado High School assisted in and developed a project designed by EHS Visual Art 1 teacher Mrs. Katie Harwell. "Funded by the El Dorado Education Foundation, the South Arkansas Arts Center, the Arkansas Arts Council Arts, and the National Endowment for the Arts, the project focused on the struggle of high school students, grades 9-12, to find their way into college and adulthood after they have finished high school," said Maria Villegas, AIE artist. "This was a wonderful opportunity for students to get in contact with the deepest parts of themselves, looking for answers to the questions of where they are going and how they are going to get there."
Teachers who worked on this project included Katie Harwell, AIE artist Maria Villegas, AIE artist Jorge Villegas and English department coordinator Jennifer Murphy .
This project provided Visual Art students with an exciting new way to integrate literacy and focus on their futures. Students identified obstacles they might encounter in life, and they made plans to maintain a positive attitude during times of transition. The art of linoleum block printing was mastered as each student designed a print that illustrated a tangible way they plan to maintain positive momentum in their lives. The students analyzed poetry that focused on challenges, choices, and perseverance. Some students wrote poetry about challenges they have faced. Others designed watercolor collages and paintings that illustrated figurative images of ways they plan to keep moving forward.
Designing note cards was a fun way for the young artists to practice carving. Students were asked to illustrate an image from El Dorado. This was also an effort to help the students realize the beauty and originality of our town. Their drawings were then turned into linoleum block prints. They used linoleum carvers, a printing press, and block ink to create the prints. The students then attached the final prints to watercolor cards, to produce a unique stationery that is now for sale to the public.