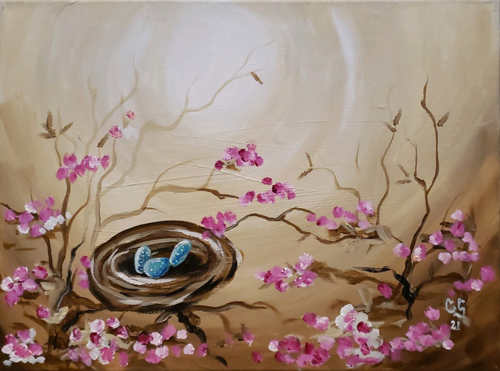 Join the fun at the South Arkansas Arts Center as local artist Chris Stone leads an "eggciting" Corks and Canvas.  The workshop will be held on Thursday, January 20, at 6pm.  Register online now and get your friends together for a night out!
Online Registration • click on the link below
Limit of 10 participants. The workshop fee is $40.
A popular and engaging Corks and Canvas instructor, Stone has been leading workshops in a variety of media for the last six years at SAAC. This time, participants will paint a "Spring Robin", which will be an acrylic painting on an 11×14 canvas.
"I often find inspiration in nature.  I find the changing of the seasons beautiful.  There's certain things we look for when we know spring is right around the corner. The arrival of the robins is when I know it's officially here. We'll be painting robin eggs in anticipation for their arrival in early March. And I am none too ready!"
Corks & Canvas is a fun and relaxed art class for non-artists who have always wanted to try their hand at painting. Each class is conducted by a different award-winning art instructor who takes the class through the step by step process to complete a work of art in three hours. Snacks are provided, and participants are welcome to bring the beverage of their choice. The $40 fee covers all supplies and snacks.

Adult Workshop Registration Links