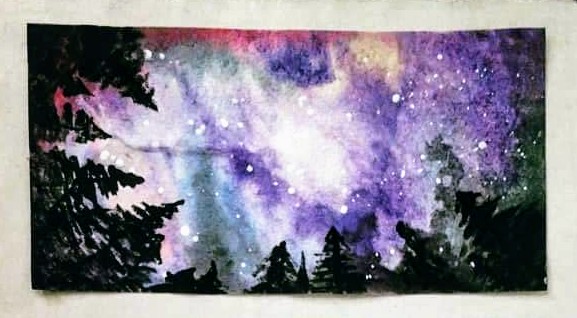 It's time to register for the June virtual Zoom Corks & Canvas – Night Sky Watercolor Workshop – hosted by artist Chris Stone! There will be two sessions to choose from – Tuesday, June 16 at 6pm, or Thursday, June 18 at 6pm. Choose whichever date fits your schedule best! Each session is limited to 10 participants.
All of the art supplies you need to create watercolor "Night Sky" will be available for pickup at SAAC Monday thru Thursday 10am to 4pm beginning Monday, June 8. SAAC staff will even provide curbside pickup on request. The fee for this special Corks & Canvas is $30, and you get to keep the watercolor set provided in your supply kit.
If you want to be a part of this very different Corks & Canvas, just follow the link to the reservation form.
As one of our most popular Corks & Canvas instructors, Stone said, "I really enjoy teaching Corks & Canvas at SAAC – I love being able to share what I know and new things I've learned. This will be my first time teaching through Zoom, but I know we'll still have a great time!"