Sign up for the next Corks and Canvas Workshop! Uncork your creativity at South Arkansas Arts Center's Corks and Canvas art classes! Corks and Canvas painting classes have something for everyone, from the newbie to the seasoned painter. Enjoy a time of relaxation with your friends re-creating the featured painting of the night. Paint, brushes, and all the supplies are provided, and an experienced, award-winning local artist leads you step-by-step through the process complete a work of art in three hours.
In-Person at SAAC! This month the workshop will be hosted July 22 by artist Amy Machen. Bring your favorite beverage and get ready to have a fun night with friends. We will have individually wrapped snacks and all the supplies waiting for you on stage at your table. You can register for the hands on workshop on Thursday, July 22 at 6pm. Limit of 10 participants. The workshop fee is $40.
Currently Registering:
"Love That Lemon!" Acrylic Painting Workshop hosted by artist Amy Machen at SAAC on July 22.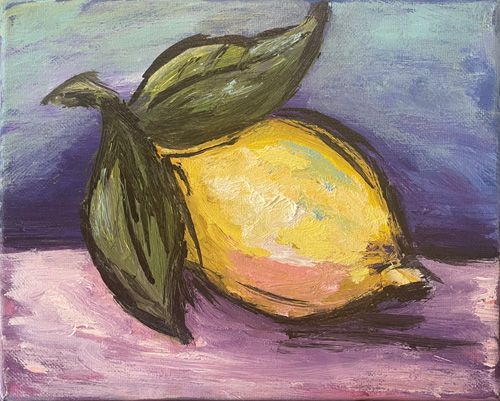 When life gives you lemons, make LemonART!  
This registration form has been replaced with the new online class software. If you have accessed this old form, please contact the SAAC office at 870-862-5474. We need to get you connected to the new form.