An Hour For the Arts
A SAAC Study Series with Gay Bechtelheimer
Artist and educator Gay Bechtelheimer will return to the SAAC stage with a new fall series of "An Hour for the Arts" lectures. Please join us for a brief reception, followed by an entertaining dive into the context, characters, and culture of a variety of art movements.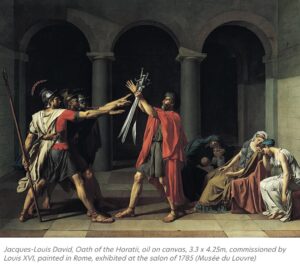 Reservation Required • Complete the Form Below or Call 870-862-5474
Thursday Evenings at 6:00 p.m.
Wine, Beer, and a Snack
December 1st, The Profane
January 19th, Winslow Homer
Join Gay as she surveys the events and influencers, the associated artists, and the art historical movements it inspired.
The series begins with "The Sacred." Artists idealize, glorify, inform; and throughout history have expressed visual images of religion or of protest.  They may communicate a narrative, give emotion to a circumstance, propagandize, or arouse awareness.  Through two art talks, The Sacred, on September 8, we will see the role religion had in the development of pictorial representation.  The Profane, on December 1, will expound on current work that is created in reaction to controversial elements of society and how art is a vehicle for protest in the context of history, past and present.
As Nina Simone said, "How can you be an artist and not reflect the times?"  Protesting policy, war, or social norms, artists have and continue to challenge the status quo and provide space and a visual language for the marginalized to be seen and heard.  Their potent contributions reinforce change by providing knowledge, solidarity, and raising awareness.
"We are excited to offer a fun and creative activity to say thank you to our membership. By offering the lecture series free of charge, we hope to remind our members just what a wonderful community SAAC is, and how much their support means." Laura Allen