An Hour For the Arts
A SAAC Study Series with Gay Bechtelheimer
As a way to say thank you to our wonderful members for your continued support throughout this global pandemic, the Board of Directors and Membership Committee would like to invite you to "An Hour for the Arts," a lecture series presented by Gay Bechtelheimer. Please join us for a brief reception, followed by an entertaining dive into the context, characters, and culture of a variety of art movements.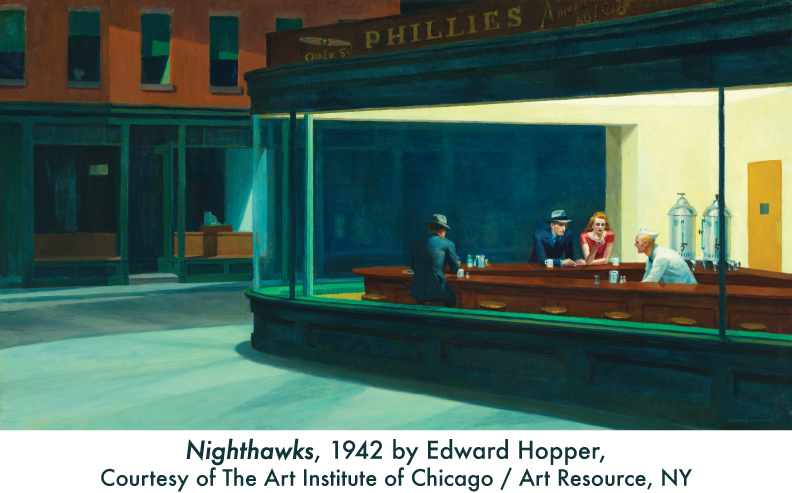 Reservation Required • Complete the Form Below or Call 870-862-5474
Thursday Evenings at 6:00 p.m.
Wine, Beer, and a Snack 
January 21st, Hudson River School
March 4th, Ash Can School
March 18th, Edward Hopper

Over the course of three discussions, we will survey the events and influencers of this transformation, the associated artists, and the art historical movements they inspired.
"For the first lecture of 2021, we will delve into the Hudson River School. The work was an ethereal celebration of the American landscape which was large, untamed, and expanding. With its origins in the mid 19th century, the Hudson River School was the first uniquely American art movement. The most well known Hudson River painting, Kindred Spirits, lives right here in Arkansas at the Crystal Bridges Museum." Gay Bechtelheimer
"Ash Can School" will be the topic for the second lecture on March 4. At the beginning of the 20th century, there were a group of painters working in New York City. Their determination to bring art into closer touch with everyday life greatly influenced the course of American art. They were known as the Ash Can Painters.
Third in the schedule is a talk about artist Edward Hopper, who is widely acknowledged as the most important realist painter of 20th Century America. However, his vision of reality was a selective one derived from common features of American life and its inhabitants. His influence reaches far into our culture; inspiring artists, filmmakers, musicians, and writers.
In order to keep SAAC and our members as safe as possible, we will follow all directives from the Arkansas Department of Health. Reservations are required, to determine assigned seating in the theatre. Patrons will be temperature checked at the door, and masks are required. Beer and wine will be served in the gallery, where guests can pick up their seating assignments and an individually packaged snack to enjoy during Gay's presentation.
"We've been looking for a safe, creative way to say thank you to our membership. By offering the lecture series free of charge, and observing social distancing requirements, we hope to remind our members just what a wonderful community SAAC is, and how much their support means." Laura Allen
This new series of lectures for 2021 are sponsored by Ginger Lawn Care, Melinda and Michael Vardesca.

Reserved Seating
The reservation portal has been closed. Currently we have reached capacity seating in the auditorium. To check on a seating reservation or for more information please call the South Arkansas Arts Center office at 870-862-5474.