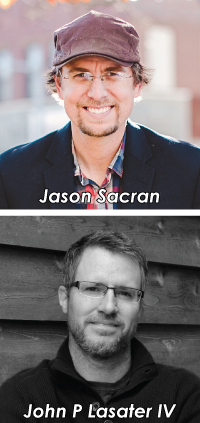 "Brotherhood: Jason Sacran and John P. Lasater IV" is coming to the Price and Merkle Galleries beginning February 2 and running through March 29, with an artist's reception 5-7pm on February 2. Sacran and Lasater are contemporary representational painters who dedicate much of their full-time artistic careers to traveling the United States, teaching workshops and painting in national outdoor painting invitationals. Their achievements are improbably parallel, and their bond of brotherhood seems to propel this. They proudly wear their nickname, "The Arkansas Boys", as they consistently take top honors in plein air competitions across the country as they travel from their homes in Magazine and Siloam Springs.
Sacran says, "I am a contemporary representational painter, working primarily outdoors. I paint what catches my interest in the moment. This could be almost anything; an orchestration of shapes, color contrast, light and shadow patterns, a mood or atmosphere, a subject I have never tried, or a subject I enjoy, etc.," Sacran said. "I am drawn to paint places and things that say something about the day and time I live in now." Sacran says, "Although my work is not necessarily subject driven, I find myself painting the overlooked and simultaneously familiar aspects of everyday life – scenes we pass by but rarely take the time to fully consider. In the chaos of daily life, I believe we all take the simple and familiar for granted. Sometimes it is these quiet unadorned places that make the most worthy subjects."
Part of Lasater's mission is to promote the arts in areas currently indifferent to it. He is accomplishing this through Heart of America Artists' Association, an organization cofounded with artist and friend, Todd A. Williams. John also created the "24 Paintings in 24 Hours" tour in which he partnered with galleries in small towns, showcasing his love of outdoor painting by creating 24 plein air paintings in 24 straight hours. Lasater said, "I make simple visual statements with my artwork, regardless of the subject matter. Simplicity is peaceful, and reinforces the blessing of our existence. Through the medium of oil paint, I have a language for my gratitude."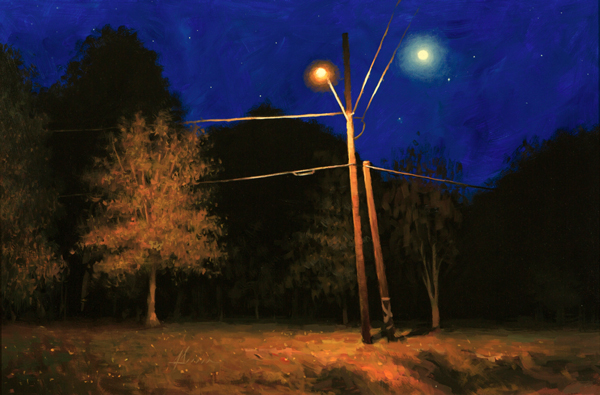 Sacran has a BFA in painting from Tennessee Tech University, and credits towards an MFA from the Academy of Art University in San Francisco. He was the curator for the Fort Smith Art Center for almost three years. In 2010 Jason became a full-time artist/painter, and part-time instructor for the University of Arkansas Fort Smith. Sacran is also the Arkansas state ambassador for the Portrait Society of America. He has had several exhibitions and been awarded many times for his works and achievements including a first place award in the Portrait Society of Americas 2011 Members Competition, Best of Show in the 2010 Wisconsin Plein Air Painter Association Annual Competition and Best of Show in the 2010 Winthrop Rockefeller Institution Invitational. Although known for his figurative and portrait work, Sacran is quickly rising as a top plein air painter, and considers plein air one of, if not his favorite subjects.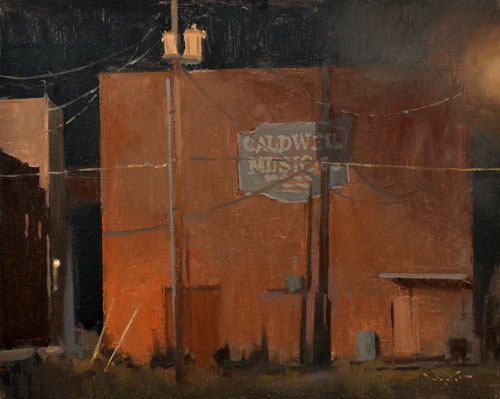 Lasater developed a love for art working as a designer and illustrator for a division of Hallmark Cards. Fine art was a natural transition after years of study and practice. He now paints full time, both from his studio in Siloam Springs, Arkansas, and on the road painting "en plein air". He also teaches workshops in venues around the United States and internationally. Lasater's honors include national plein air painting awards, artist-in-residency's, feature articles in both Southwest Art and Plein Air Magazine, and mentions in art magazines including Art of the West, Southwest Art, International Artist, and Plein Air Magazine. He studied under master artists Israel Hershberg, C.W. Mundy, Carolyn Anderson, John Budicin, and Todd A. Williams. In October 2014, John was invited by Bass Pro Shops to put on a private plein air demonstration and exhibit for President George W. Bush.
For more information about this exhibit and reception, please call the SAAC office at 870-862-5474 or visit the website at www.saac-arts.org. SAAC is located at 110 East Fifth Street, El Dorado, Arkansas.