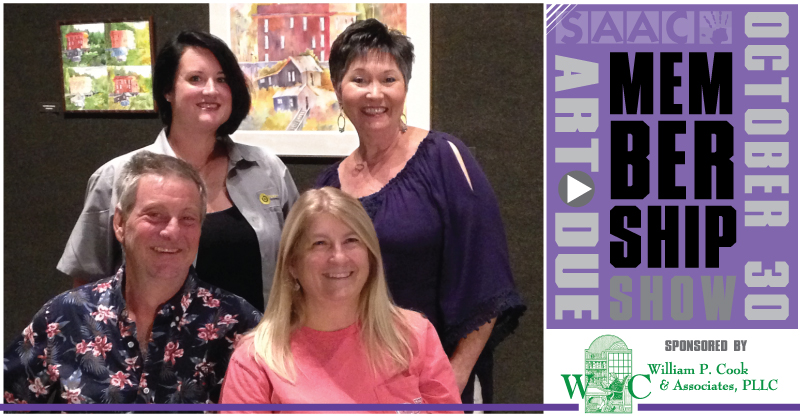 •
SAAC's Visual Art Committee invites all area artists to submit their work for the Membership Show, which will be held from November 1-30, 2018, in the Price and Merkle Galleries. Artists who are not SAAC members are welcome to join the SAAC when they deliver their artwork if they would like to participate in the show.  The SAAC Membership Show is sponsored by William P. Cook and Associates.
Cindy Snelson, current visual arts committee member, said about the show, "We on the committee are so excited to see a lot of membership participation in this show. If you are not a SAAC member, now is the time to become one." New SAAC members may submit two entries for free when they join SAAC, instead of one.  For existing members, the first artwork entry is free, and the second piece is $10 to enter.
Chrystal Osborne, chairman of the visual arts committee commented, "Our membership show is one of the more inspiring shows for me.  It enables south Arkansas to enjoy, celebrate and explore its local artists.  We love all the artists that share their gifts with us, however it is even more special when it is one of our own."
Area artists are welcome to select two favorite works, created at any point in their lifetime, and deliver them to the SAAC for the Membership Show.  The only rule is that work shown in the previous year's Membership Show cannot be submitted again.  Participants are encouraged to sell their work, but it is not a requirement. Entries should be delivered by Tuesday, October 30.  Artists may pick up their works on Monday, December 2.
As in past years – anything goes! All 2-D and 3-D fine arts media will be accepted, including photography, computer generated art, fiber art, video and multi-media presentations.  Pieces must be original.  Artwork completed under classroom supervision and/or reproduced from published material or work by other artists is not accepted.  2-D works must be completely ready for gallery display – framed in a clean, neat and professional manner with a secure wire hanger. 3-D works, and multi-media presentations must be display ready.
For more information about the membership showcase, please call the SAAC office at 870-862-5474 or visit the website at www.saac-arts.org.  SAAC is located at 110 East Fifth Street, El Dorado.
Committee Members:
Back Row Chrystal Osborne and Tina Hughes
Front Row Joey Antoon and Cindy Snelson.