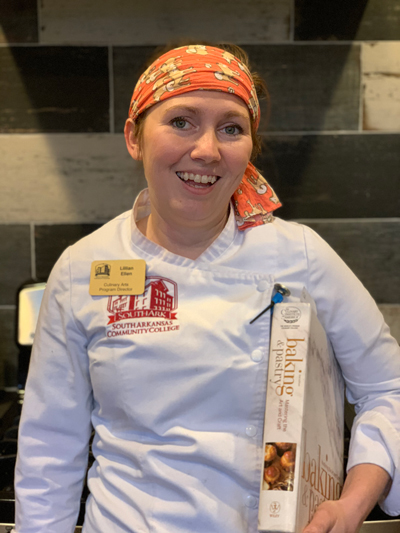 Does the thought of handmade French crepes stuffed with the filing of your dreams and piled high with fresh whipped cream make your mouth water? If so, then you must come join the South Arkansas Arts Center on Sunday, February 23, from 11:00am-1:00pm for The Musketeer Brunch. In conjunction with the opening of the spring production of "The Three Musketeers", the brunch will feature a "French-ish" menu with a southern twist.
El Dorado local Chef Lilli Ellen will be on hand during the brunch to cook and flip the crepes at a crepe station set up to feed and entertain guests. Tempt your taste buds with these flavors…the classic French combo of Nutella and banana, raspberries and pastry cream or a special Three Musketeers cream! Guests will be able to watch the crepes being cooked and filled at the action station and talk to Chef Lilli and her helpers while it is being done.
Chef Ellen attended the Culinary Institute of America, the country's oldest and most prestigious culinary school, which, she added, was a fun but challenging experience. Her extensive culinary resume includes pre and post education experience as a cook, chef and baker. She is proud to have worked with chefs from around the world. After traveling around and working in different kitchens to give her some experience, Chef Ellen now resides in El Dorado and is the Chef Director of the Culinary Arts Program at South Arkansas Community College.
The brunch will also feature shrimp and grits, mini sandwiches, pasta salad and coffee, as well as a champagne and mimosas at the Box Office Bar. Tickets for this delicious event are $25 for adults and $10 for children 6-12 with no charge for children 5 and under. Stop by SAAC to purchase tickets or call office at 870-862-5474 to make a reservation.