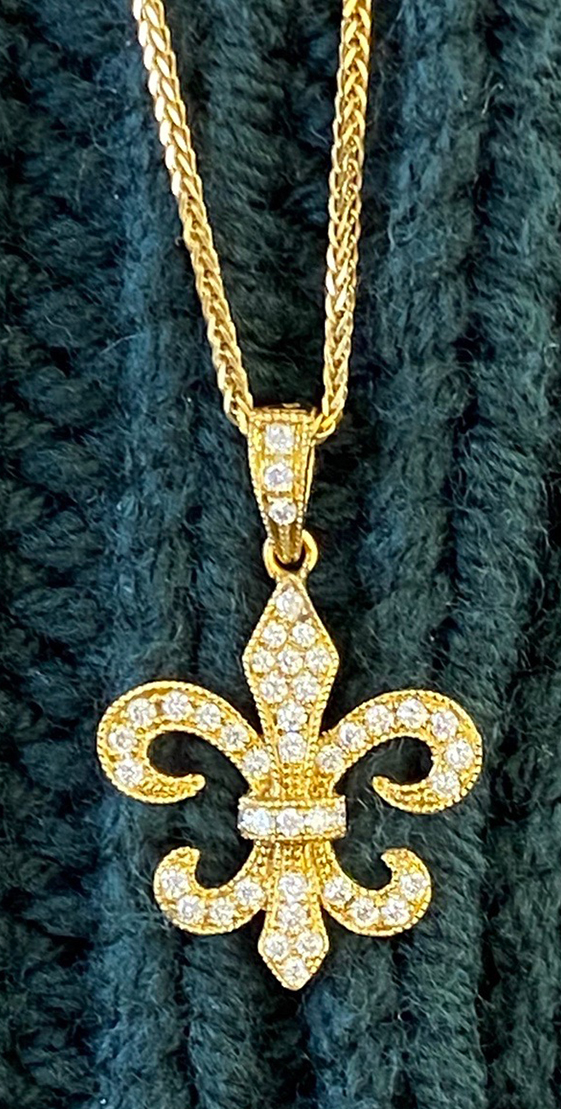 SAAC is thrilled to partner with Murphy-Pitard Jewelers, sponsor for the upcoming spring production of "The Three Musketeers", as we raffle a stunning gold fleur de lis necklace as a fundraiser for the production.
The winner of the Fleur de Lis Raffle will be selected on Saturday, March 14, 2020 before the Saturday night performance of "Ken Ludwig's The Three Musketeers" on stage at the South Arkansas Arts Center. Raffle tickets are $20. You do not need be present to win.
Murphy-Pitard Jewelers has selected this 18 karat yellow gold diamond encrusted fleur de lis pendant containing 42 round brilliant cut diamonds that total .22 carats. It's suspended from a 14 karat yellow gold .8 millimeter diamond cut wheat style pendant chain that measures 18 inches in length. The estimated value is $2050. You are invited to view, try on, and purchase tickets to win the beautiful gold charm necklace at Murphy-Pitard Jewelers.
Raffle tickets are available from SAAC board members, at Murphy-Pitard Jewelers, at the SAAC office, The Three Musketeer cast, and even some SAAC members. Any current SAAC member is eligible to sell raffle tickets, as well, so please call the office if you would like to help the cause and sell some tickets!
Your $20 ticket purchase is tax deductible, and all proceeds will be used to further SAAC's educational and theatrical programming.