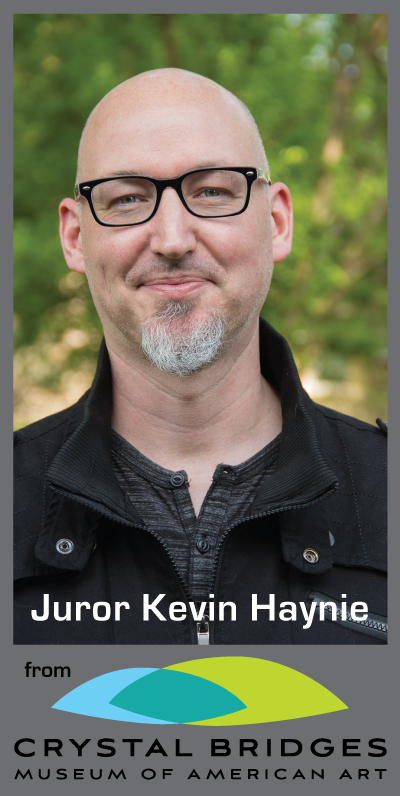 The SAAC is pleased to have Kevin Haynie, preparator at Crystal Bridges Museum of American Art in Bentonville, Arkansas, as juror for this year's Annual Juried Art Competition. This national competition is open to 2-D and 3-D artists from around the country. The exhibit, sponsored by Smackover State Bank, will be on display July 17- August 10 in the SAAC Galleries.
At Crystal Bridges, Haynie leads gallery installations, cares for and maintains the permanent collection, and works to broaden the engagement of art within the community. He recently implemented Crystal Bridges' first-ever Community Installation using artist Nari Ward's "We, The People," a fabric installation. Kevin planned the installation to include everyone, including museum visitors, students of all ages, and staff.
Founded in 2005 by the Walton Family Foundation, Crystal Bridges' permanent collection spans five centuries of American masterworks, ranging from the Colonial era to the current day. The permanent collection, which continues to grow through a strategic acquisition plan, is on view year-round, along with an array of temporary exhibitions.
Kevin was born in El Dorado, and studied art at both Henderson State University and the University of Arkansas, earning a BFA in Studio Art. His art background includes working extensively with both traditional media and non-traditional formats, including digital, auditory, animation, and interactive works. Kevin has used his knowledge and experience in art installation to enhance his own work and others in the art community. Whether it's installing his own inverted 40-foot-tall polystyrene site-specific installation in the entranceway to the Fayetteville Community Center, being awarded Best Film in the Little Rock 48 Hour Film Project, or collaborating with artists both locally and nationally, Kevin is always looking for more inspiration and cross-collaboration.
When not working as a preparator, Kevin often travels to many of the nation's art museums and galleries, anxious to see what is new in art communities, often looking for newly discovered or unknown artists. He believes that one of the most exciting aspects to viewing art is discovering work by artists who don't yet have a large audience. Kevin is excited to look for a unique perspective, be that in concept, medium, or style, in the upcoming SAAC 2018 Annual Juried Art Competition.
Haynie has previously worked as an art educator, and handled art for 21c Museum Hotel and the Fort Smith Regional Art Museum. He was a member of the Fayetteville Underground art collective and has shown his work all over Arkansas. For his work as a filmmaker, Haynie recently won an international award for short film at 'Filmapalooza' in Paris, France. His films have been shown in the Fayetteville Film Fest and in the Little Rock 48 Hour Film Project.
For more information about the Juried Art Competition, please call the SAAC office at 870-862-5474