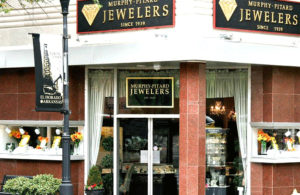 Murphy-Pitard Jewelers of El Dorado will be the sponsor for its upcoming production of "Breakfast at Tiffany's". This marks the first time that Murphy-Pitard has sponsored a show at SAAC, and it seems to be a perfect fit, considering jewelry's starring role in the production.
Owners Toddy and Amanda Pitard expressed their enthusiasm for joining SAAC in this production, which will open on October 19th and run from the 21st-25th. Amanda explained, "Toddy and I genuinely love connecting with our community through our business. Murphy-Pitard Jewelers provides us with a natural way to make a difference through charitable donations and support of local organizations."
Located in downtown El Dorado, Murphy-Pitard Jewelers is a retail institution, having been in business since 1939. They design, create, manufacture and stand behind their jewelry, from their Pandora, Frieda Rothman and Angelica collections to their Simon G. rings and Imperial pearls. The local, family-owned business belongs to the International Jewelers Organization, and Amanda Pitard is also a Graduate Gemologist – the highest degree attainable in the trade – from the Gemological Institute of America. In addition, Toddy is a master Bench Jeweler with over 30 years of experience, making them an ideal team.
"We were so pleased to hear that 'Breakfast at Tiffany's' was selected as the fall show, so we could use our jewelry to sponsor the SAAC and dress the ever-so-stylish Holly Golightly in her iconic pearls," Amanda said. "We feel the arts are vital to a healthy community, and with local businesses' support, the SAAC can truly shine. We are honored to be sponsoring such a great cause, and we can't wait to see director Alexander Jeffery's vision brought to the stage."
SAAC wishes to thank Murphy-Pitard Jewelers for their dedication to fulfilling the arts within the community. For more information about sponsorship opportunities, contact the SAAC office at 862-5474.