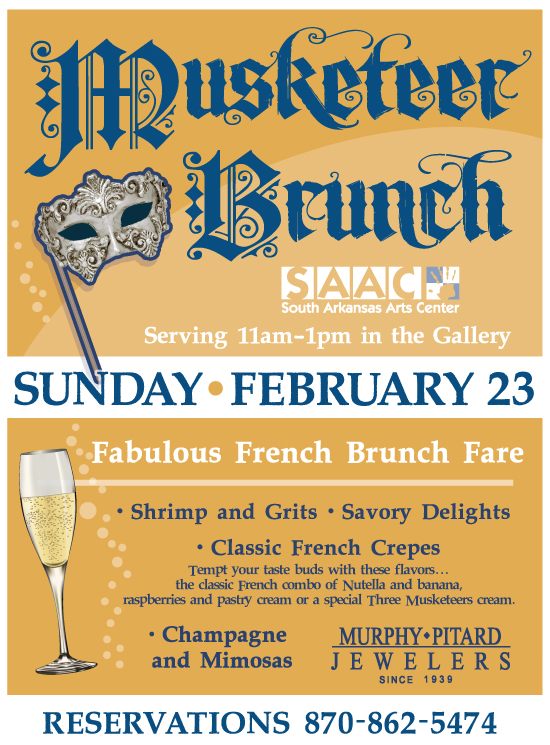 SAAC is hosting a Musketeer Brunch on Sunday, February 23, from 11:00am- 1:00pm. King Louis Xlll and Queen Anne invite you to an illustrious brunch affair, complete with French delicacies and savories to delight all of your senses. The scents and sights will inspire your hunger and pull you in to a period in history where brave swashbuckling heroes fight for their maidens and their honor.
Come join the delicious fun and get a taste of our fabulous French brunch fare, prepared for you by some of El Dorado's finest home cooks and chefs. The menu is decidedly French, with a definite southern flair, and includes local favorite shrimp and grits, as well as a classic French crepe station manned by chef Lilli Ellen. Pick your filling and they will cook it up right before your eyes! A fruit and yogurt bar, mini sandwiches, and pasta salad round out the menu. Enjoy a glass of champagne or a mimosa before brunch from the Box Office Bar.
Tickets for this delicious event are $25 for adults and $10 for children 6-12 with no charge for children 5 and under. Stop by SAAC to purchase tickets or call office at 870-862-5474 to make a reservation.
Murphy Pitard Jewelers will again sponsor the spring production and have donated a beautiful gold and diamond encrusted fleur de lis necklace, in keeping with the French feel of "The Three Musketeers". Murphy Pitard will also host a shop on site during the brunch with their curated jewelry collection in the Price Gallery so attendees can shop their hearts out, with 10% of proceeds going to SAAC. Raffle tickets are $20 each and can be purchased through the SAAC office, SAAC board members or at Murphy Pitard Jewelers.
The Musketeer Brunch, sponsored by Murphy Pitard Jewelers, will be held in conjunction with the opening of "The Three Musketeers", which will be live and on stage March 6-8 and 12-15.