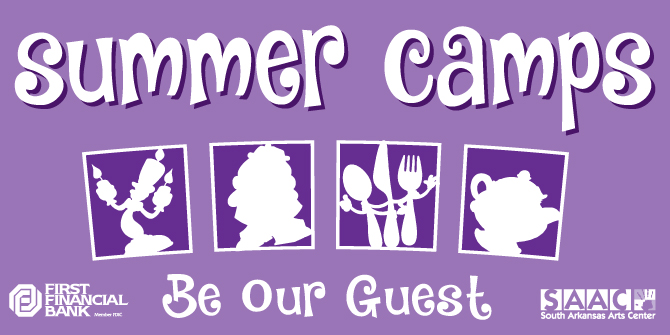 Do you think your kids would like to try their hands at creating art or singing popular tunes? Sign them up for the fun this summer at the South Arkansas Arts Center's summer camps for Glee and Art Club. It's a great way for them to have fun while learning a new skill and create confidence in them as well.
Amy Allen will be the songstress leading Glee Camp, with a theme of "Rock and Roll Heaven". Campers will be concentrating on tunes that the kids will recognize from famous performers, dead and gone. Amy is excited about this genre and watching the children learn to perform. "Glee is a program we have here at the SAAC where all children who love music can come and express themselves. This summer we will focus on hits from performers who have joined Elvis in heaven. I love doing Glee Camp because I love kids and it's so fun to watch them learn and develop confidence about their singing. We are going to have a good time", said Amy.
Art Camp's Creative Adventures will be held from July 24-28 for grades one through eight and campers can chose to meet either from 8:00 to noon or from 1:00-5:00pm each day. Glee Camp will start on July 24 and continue through July 28 also. Camp times for grades three through six will be from 8:00- noon and for grades seven through twelve, from 1:00-5:00pm.
Three talented SAAC artists will be leading Art Camp this summer. Mike Means will instruct in computer art and photography and said, "Zowie! Camp is going to be fun this year!" Maria and Jorge Villegas will head up the visual arts, drawing and painting. When asked about Art Camp, Jorge Villegas said, "Art camp is the event we wait for each summer because it's the possibility to do something fun with the kids. We work intensively with the arts during the whole week. One of the most important parts of the arts camps is we all come together from different backgrounds and different schools with the idea to all do art together. So we create an environment in which good friendships develop. And sometimes kids who come from different parts of town, even different towns, get to know each other and to work together doing fun projects with art." Maria Villegas is excited about Art Camp as well, and is busy preparing. "We are going to do wonderful masterpieces full of color and fun!"
All camp fees are $110 for SAAC members and the out of town guests of current members. Camp fees for NEW and renewing students will include a $20 student membership which is good for discounts on classes and programing for one full year at SAAC. SAAC's Summer Camp program is sponsored by First Financial Bank.
Class fees are non-refundable. Class sizes are limited and will be filled on a first come basis. Full and partial scholarships are available, provided in part by the Union County Foundation. Contact the SAAC office for information at 870-862-5474. SAAC is located at 110 5th Street, El Dorado, Arkansas