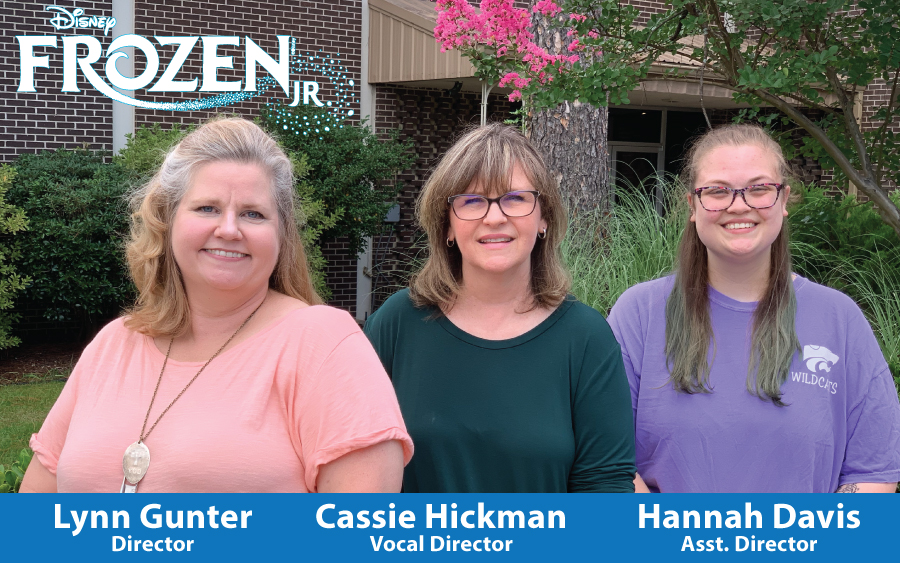 The fall Drama Club production is… drum roll, please… "Disney's Frozen JR."! Disney's worldwide phenomenon is taking the SAAC stage by (snow)storm! The enchanting modern classic from Disney, "Frozen JR." is based on the 2018 Broadway musical, and brings Elsa, Anna, and the magical land of Arendelle to life, onstage. The show features all of the memorable songs from the animated film, plus five new songs written for the Broadway production. With a cast of beloved characters and loaded with magic, adventure, and plenty of humor, "Frozen JR." is sure to thaw even the coldest heart!
SAAC's fall Drama Club production, sponsored by Southern Airways Express, will kick off with "All Things Frozen", an audition information party to be held on August 24 & 26. Production is scheduled for Dec 10-12.
The fabulous, all-female production team of Director Lynn Gunter, Music Director Cassie Hickman and Assistant Director Hannah Davis return to the South Arkansas Arts Center's stage for "Frozen, JR.", everyone's favorite Disney movie, revamped for the stage.
Lynn Gunter is the instructor for SAAC Drama Club classes and a local music and English teacher at West Side Christian School. Over the last 8 years, she has directed over 20 productions, mostly on the SAAC stage. Gunter is a resident of Huttig, where her husband is pastor of Huttig First Baptist Church. She is also the K4-12th Grade music teacher for WSCS. Gunter has a BA in Speech Communications and has traveled the Tri-State and national collegiate circuit in forensics and debate.
"SAAC Drama Club will bring snow and ice to the SAAC stage with Disney's 'Frozen, JR." This is a fan favorite fairytale of a Snow Queen who cannot control her powers and the sister she tried to keep safe from them. On this journey we learn about true love, the power of letting go of fear, and the simplicity of a hug," said Gunter.
Cassie Hickman is a homeschool mom of two, as well as a homemaker. She has been the music director for countless productions on the SAAC stage, as well as teaching a summer music class for preschoolers. Hickman's first show on the SAAC stage was a homeschool production of "Alice in Wonderland" in 2015. Since then, she has been the music director for many additional homeschool shows, as well as for two Penguin Projects, Youth Theatre projects, and Drama Club productions.
Hannah Davis is no stranger to theatre and the SAAC stage happens to be her favorite, as she teaches the kids' drama classes there. Some of her favorite past credits include: director of SAAC's "Annie KIDS"; the character Rhonda and the hair, wig and makeup designer for SAAC's "Singin' In The Rain"; Grempkin in SAAC's "Peter and the Starcatcher"; Madame Spanella in SAAC's "Breakfast at Tiffany's"; and director of SAAC's "Disney's Aristocats KIDS". She has a bachelor's degree in theatre from Louisiana Tech University. When not at SAAC she can be found teaching eighth grade English at Barton Junior High.
Disney's "Frozen JR." is presented through special arrangement with Music Theatre International (MTI). For more information on this exciting and "fun for your kid" production call SAAC at 870-862-5474.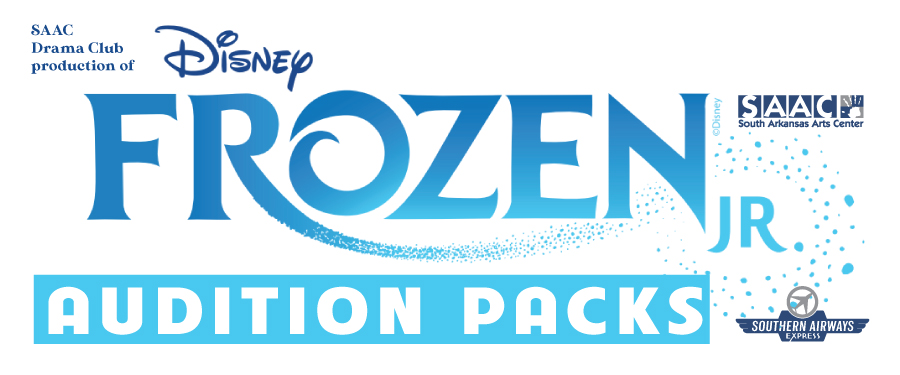 The Information Sheet and Audition Form is included in all packs, but each has a different collection sheet music and sides. The Young Anna and Elsa pack is for students grades 2-6 and the Drama Club Basic pack is for students grades 7-12.  The Full Pack includes sides/scene readings for character roles and the sheet music for Anna, Elsa, Hans, Kristoff, Olaf or Sven that will be used at Callbacks.